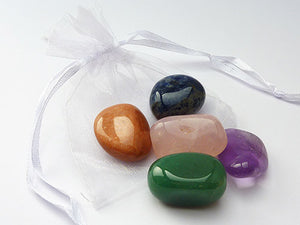 Crystal Pack - Emotional Balance
Regular price $0.00 $16.00 Sale
Emotional Balance Crystal Pack

Crystal Pack Meaning Our Emotional Balance Pack will help you find that balance between your physical body, your mind and your emotions, helping you to remain calm and find your inner peace. 5 stones, 50 to 90g.
Rose Quartz is the crystal of love and peace. It promotes harmony, reduces stress and tension and opens the heart bringing a deep inner healing enhancing self love, self trust and self worth.
Amethyst is best known as the stone of calming and intuition. It has a beautiful gentle and peaceful energy that just makes you feel calm and happy.
Moonstone is a powerful calmer of the emotions. It is the stone of new beginnings, uplifting and calming it connects to the female energy and intuition.
Green Aventurine promotes a positive, easy going outlook on life, balancing the male and female energies. It brings joy, happiness, emotional tranquility and balance.
Sodalite helps bring emotional balance and can be helpful in times of worry or stress. It helps release our fears that hold us back from being who we truly are, promoting self esteem, self acceptance and self trust.